Dr. Beat
---
Franz
Wittner
SEIKO
Matrix
KORG
TGI Metronome /Tuner
QWiK TiME
MetroAmp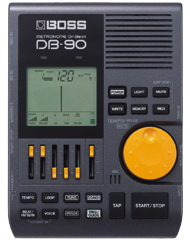 The DB88 is no longer manufactured.. it has been replaced by the:

Dr Beat DB 90 Talking Metronome
Call (800) 586-3876 for low price or email tdm@rica.net .
Click here to listen>>>>
Power Supply (#PSA120T) for DB 90 - $19.95

Specifications:
Tempo: 30-250 (Accuracy: ±0.1%)
Reference Tone: Reference Pitch: A4=438 Hz-445 Hz (1 Hz steps): Reference Tone Range: C2-B6 (5 octave, 12 semitone)
Memory :Metronome can store 50 different metronome setting. Stores 10 different reference tone settings.
Rhythm level sliders adjust the volume of the accent on the first beat and volume of each rhythm.
A foot switch (optional) moves shifts the memories up and down.. so you can quickly go between different tempo and rhythms.
Backlit display can be turned off.
Tap Mode... will return a tempo tapped into metronome
Loop Play Mode
Count in function gives a lead in count before the metronome count itself starts.

BEAT: (BEAT1) 1–9, (BEAT2) OFF/1–9 PATTERN: 8-BEAT x 4, 16-BEAT x 3, SHUFFLE x 3, FUNK x 2, JAZZ x 2, BLUES, TECHNO, HOUSE, COUNTRY, REGGAE, CLAVE 3-2, CLAVE 2-3, SALSA, RUMBA, BOSSA NOVA, SAMBA, WALTZ, TANGO, MAMBO, CHACHACHA, MARCH (30 kinds)

Poly rhythms: Beats: 2+3, 3+2, 3+4, 4+3, 4+5, 5+4, 5+6, 6+5, 6+7, 7+6, 7+8, 8+9, 9+8

Amp simulator function - use the metronome as a simple monitor amp for bass or guitar.
RHYTHM COACH: Time Check, Quiet Count, Gradual Up/Down, Step Up/Down
Auto Power Off function Turns unit off after 60 min
Indicators: LCD Display, Tempo Indicator LED x 2
Connectors :TRIG IN jack, START/STOP jack, MEMORY UP/DOWN jack. MIDI IN connector, PHONES jack x 2 (Stereo 1/4" phone type, Stereo miniature phone type), INPUT jack, AC ADAPTOR jack
Power Supply: DC-9V: Dry Battery or AC adaptor (PSA series)- 85ma draw
Accessories: Dry Battery, Soft case, Owner's Manual, Cymbal stand attachment.
Dimensions: Width - 4-13/16 inches , Height - 6-1/2 inches , Depth 1-1/2 inches ,Weight 1 lbs
Description:
Quick rhythm customizing with Note Mixing function, dozens of play-along drum patterns also built in

Dedicated sliders, buttons, rotary dial, and large backlit LCD for user-friendly operation

4 metronome (including human voice) sounds

Reference Tone function makes it easy to verify tuning by ear

Practice with the Rhythm Coach by connecting a V-Pad (optional) — rubber pads and acoustic drums can also be detected via built-in mic

Footswitch control for hands-free play/stop, and MIDI input for sync to external sequencers

Direct connection with guitar and bass, plus headphone monitoring

Better Beats, Better Practice
The Note Mixing function allows you to instantly create a variety of beats by adjusting the levels of five different note values. Front-panel sliders, buttons, and a large rotary dial provide instant, hands-on access to edit parameters. Select four different click sounds, including a human voice-counting sound that will help you know your place in the bar. The DB-90 is also equipped with realistic PCM drum patterns, for developing your accuracy and rhythmic feel effectively.

Plug Into Rhythm Coach
Expand your rhythmic horizons with Rhythm Coach. This innovative follow-along feature has four training modes to help build your accuracy, speed, and endurance. With the DB-90's onboard microphone, you can use the Rhythm Coach functions with acoustic drums, or plug a Roland V-Pad into the Trigger input. Play along, and chart your progress.

Many Uses
Drummers can connect to the DB-90 via Roland V-Pads or the internal microphone. Guitarist and bassist can directly plug into the DB-90 without any other gear required, and monitor via connected headphones — practically any type of instrumentalist can benefit from the DB-90's features. And for those who wish to sync to an external sequencer for more elaborate accompaniment, they can do so with the DB-90's MIDI input. This stage-oriented feature is especially useful for drummers.
Dr Beat only available in the USA) -
More info on Dr. Beat metronomes