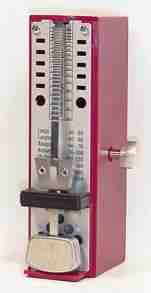 Wittner Taktell Super Mini $42.50
2 or more each
$40.50

Wittner Taktell Mini
Wood Case $103.00

Select Price/Color Options




Features
Size: 1 1/8 x 1 7/8 x 4 1/8". Includes a clear plastic cover that snaps on to the plastic model.. The wood model has a hinged wooden cover.
Fits comfortably in pocket or handbag. The winding key can be removed and placed into the face of the metronome for transportation.
Range: 40 to 208 beats per minute, set by sliding the metal weight up and down the stem of the metronome.
One year warranty.
Colors Available: Black, Ruby (red) , and Ivory.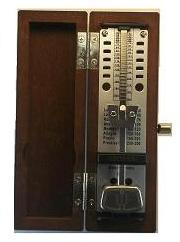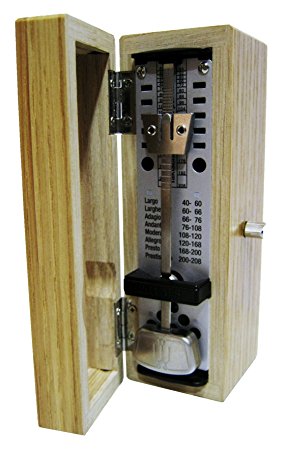 Taktell Mini Wood Case mini (pictured to the right) is manufactured with a wood case finished in mahogany, black, or oak.(Lighter finish)
Made in Germany.
Very accurate, yet one of the smallest key wound metronomes available. To change the tempo of the metronome, simply slide the metronome weight up or down. Metronome markings are easily seen on the face of the metronome. The metronome wind up key can be removed from the side of the metronome and placed in the metronome for storage when the metronome cover is used. Wood model has hinged door that swings open for use. Extra metronome keys and metronome weights are available.
Need more info.. email: Orders@metronomes.net
or call 800 586-3876
Parts For Wittner Metronomes

Wittner Metronome Repair