Korg BeatLab Metronome
---
---
---
---
---
---
---
---
---
---
---
---
---
---
---

View By Type: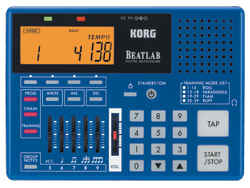 Korg BeatLab Metronome
This Model is no longer available as Korg has discontinued manufacturing the BeatLab For similar features please look at the following models:

Dr. Beat Boss DB60 Metronome
or the
Dr. Beat DB90 Metronome

The BeatLab metronome will easily store 24 different tempos ... this is ideal for easily switching tempos between songs during live performances...
Features:
• Training function with 39 basic rhythm patterns ("rudiments") ideal for practicing.

• Sound and LED indicators let you practice the timing of your right- and left-hand strikes.
• Supports triplets and complex rhythms such as five to nine notes per beat.

• Program mode lets you create and memorize twenty-four different settings of tempo, beat, and rhythm sound volume.

• Chain mode lets you memorize eight chains, each containing up to sixteen programmed patterns.

• Slider Volume: Accent/Quintuplet, Quarter-note/Sextuplet, Eighth-note/Septuplet, Triplet/Octuplet, Sixteenth-note/Nonuplet

• Tap Tempo function lets you set the tempo by tapping a button.

• Headphone jack (1/4" jack) and adjustable volume.

• Operation and settings are made easy by the basic layout of sliders and keys. Tempo range is 30 - 300 bpm.

• Backlight display for good visibility. Size: 5.6" (W) x 4" (D) x 1.1"(H)- Weight .5 lb.

• Battery operation (four AAA alkaline batteries) or AC adapter- standard 9 volt power adapter. Battery Life - approx. 120 hours (in Program mode, 240 BPM,ACC: quarter note, maximum volume).

• Three year warranty.


Attention drummers: Nail your rhythms with BeatLab
BeatLab makes it easy to practice and perfect a variety of rhythms and styles. You can simply select one of the "rudiments" (basic rhythms), or use the convenient sliders and keys to program your own rhythm for practicing. BeatLab will play the tempo and will flash its two-colored LED to help you feel the beat. The red light indicates the strong beat/left hand while the green light indicates the weak beat/right hand. BeatLab is designed with an extra-loud volume so that it's easy to hear what's going on even if you're wearing headphones.

Get compliments on your rudiments
BeatLab's Training mode is chock full of a multitude of patterns that will help you practice your snare drum rudiments. Thirty-nine patterns of the well-known standard rudiments such as roll, paradiddle, flam, and ruff are built-in, so it's easy to practice your snare drum or marching band basics. BeatLab includes cues that help you know which hand's turn it is. When it's time for your right hand to play, you'll hear the right-hand sound and see the green LED light. When it's your left hand's turn, you'll hear the left-hand sound and see the red LED light. Plus, you can choose whether the pattern starts on the right or left hand.

Create your own ideal practice patterns
BeatLab isn't just great for drummers. Any player will find it indispensable for brushing up on their performance technique. For just the right feel, try out BeatLab's Program mode. Use it to build your own simple or complex practice patterns. You can combine up to nine types of rhythm and accent at a beat or tempo that you specify. Use quarter notes, eighth notes, sixteenth notes, as well as triplets – you can even choose five to nine strikes per beat. Adjust the rhythm and accent volume using BeatLab's five sliders to create an original pattern that's just right for you. BeatLab can store twenty-four programs in internal memory. There's also a Chain mode that will memorize eight chains, each containing up to sixteen programmed patterns. You can also make the tempo speed up or slow down gradually, or switch the rhythm between eighth notes, triplets, and sixteenth notes while you practice.

Tap Tempo function
The Tap Tempo function lets you specify the tempo simply by striking the Tap key. Use the up/down keys to make detailed adjustments to the tempo.

Designed for easy operation and great visibility
BeatLab is designed for quick and convenient access to the functions you need. It's controls include independent keys for each mode, convenient sliders for adjusting the volume of each rhythm sound, numeric keys for setting the tempo as a numeric value, up/down keys, and parameter select keys conveniently placed below the display for selecting the parameters shown in the display. The display is backlit for easy visibility even in dim locations.

Battery power or AC adapter
BeatLab can be operated either on four AAA batteries or an AC adapter.

Need more info.. email orders@metrnomes.net
or call 800 586-3876