Wittner
SEIKO
Matrix
Dr. Beat
KORG
Cherub
Intelli
Electronic Pitch Pipe
Metronome Watch
QWiK TiME
MetroAmp
Franz
Metronome Stand
Music Stands
---
Search By Type:
Key Wound
Digital Metronomes
Dial/Quartz
Tuners

---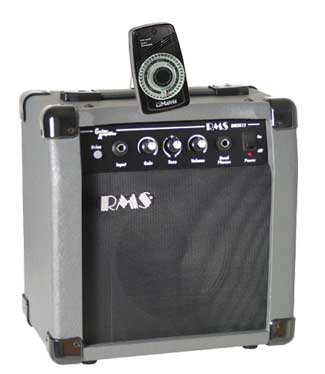 MetroAmp Package $139.00
Or Call (800) 586-3876
Need more info.. email: Orders@metronomes.net
or call 800 586-3876
MetroAmp Micro Package -
Amplified Metronome/Pitch Generator
$69.95
Or Call (800) 586-3876
We have had many requests by Barber Shop Groups, Orchestras, Bagpipe Groups, Chorus Directors, Drum Groups, Drummers and others for a loud metronome or pitch generator. The combination of the Matrix Mr600 metronome and the HoneyTone Amp is louder than any other metronome.
The Mr600 will generate 3 octaves of pitches or metronome sounds and the Micro Amp will make it loud enough for most situations. The amplifier is 4 watts and has a 3" speaker. Most metronomes only have .25 watts and a 1" speaker. The sound is at least 10 times louder than any other metronome/pitch generator.
Both units use 9 volt batteries (not included). We provide all the connections and instructions.
Micro Amp features:

Matrix Mr600 Metronome Features

High Efficiency 3" speaker
4" wide x 5" high x 2" deep - weight 14 oz.
Ported Cabinet
3 watts peak power
Volume & tone control
Headphone jack
LED power indicator
On/off switch
Input jack
DC adaptor jack - 9 volt battery not included
Belt clip
Over 3 octaves of pitches with pitch shift.
Flip out metal stand.
Range : 40-216 beats per minute.
Light and or click.
8 color LED's move with beat.
Chime accents downbeat on 0,2,3,4,5 & 6.
Adjustable volume control.
Earphone included.
Uses 9 volt battery - not included.
2 1/2"w x 5"h x 1 1/2"d
Need more info.. email: Orders@metronomes.net
or call 800 586-3876