Korg CA 30
Chromatic Tuner has been replaced by the:


Korg CA-1
Chromatic Tuner
$16.95
Or Call (800) 586-3876



Features:

The Korg CA1 is a compact chromatic tuner, ideal for any instrument.

LCD needle-type meter with a wide range C1 thru C8. Calibration of 410 - 480Hz in 1Hz steps.

Sound Out produces a reference tone (electronic pitch pipe) from the internal speaker: C4 - C5.

Auto Power Off function conserves battery life. Battery life about 100 hours. Uses two AAA batteries 3V that are included

Memory Backup function Tuning accuracy +/-1cent. Sound accuracy +/-1.5cent.

Connection jack is a standard 1/4" jack

Size: 4.1"(104mm) Wide x 2.52"(64mm) Deep x 0.6(15mm) High - Weight: 2.86 oz (81g) (Including the batteries)

Three year manufacturer warranty.

Wide Range of Pitch Detection
This compact chromatic tuner supports a broad range of C1 (32.70 Hz)--C8 (4186.01 Hz), allowing speedy and high-precision tuning of wind, string, keyboard, and other instruments. This tuner is ideal for tuning even low-register notes containing numerous overtones that are often difficult to tune. A high-sensitivity mic is built-in, allowing easy and accurate tuning of acoustic instruments such as ukuleles. A separately sold CM-100 contact mic can also be used to send the vibrations directly to the tuner for even more accurate tuning.

Ultra-compact body with a "Tilt Slit"
Although the CA1 is small, thin, and light, donít let its pocket-sized body fool you. The CA1 packs the functionality needed for tuning a wide range of instruments. From studio to stage, tuning is easy and convenient. The back of the unit includes a unique arc-shaped "tilt slit" that lets you insert a plastic card for use as a handy stand.

High-precision LCD Meter
The meter section uses a LCD needle, combining the accuracy of an LCD with the easy visibility of a needle, and providing a stable display. Additional visual feedback is provided by LEDs that indicate pitch deviation.

Sound Out -- Internal Speaker Provides a Reference Pitch
In addition to visual tuning via meter, the CA-1 can play reference pitches from its internal speaker (Sound Out) for tuning by ear. Each press of the Sound switch will cycle through the A4--Bb4 notes commonly used for tuning wind instruments. Or you can hold down the Sound switch to change the cycle to the semitone intervals from C4 through C5 (one octave), allowing reference pitches for any instrument to be sounded quickly.

Calibration Function
The Calibration function (410--480 Hz) supports a wide range of standard pitches, and can be adjusted in 1 Hz steps for accurate and flexible tuning to any song or key. Thanks to the Memory Backup function, the Calibration and reference pitch are remembered even when the power is turned off. (However, these settings will be initialized when the batteries are replaced.)

Auto Power Off Function
If you leave the unit powered-on for 20 minutes without performing any operation, the Auto Power Off function will turn the power off automatically, avoiding unnecessary battery consumption.

Approximately 100 hours of Continuous Use
Low-power consumption design allows an amazing 100 hours (approximate) of continuous battery life (A4 continuous input, Meter mode, zinc-carbon batteries)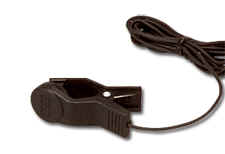 Korg Pick Up/
Contact Microphone
$12.95

Ideal Positioning for Easier, More Accurate Use

The CM-100 Contact Microphone is a perfect compliment to any tuner that offers an audio input jack. The mic can be positioned to get a more sensitive reading, while allowing the tuner to be positioned for easier reading. One year warranty.

The jack is a 1/4" male phone connector.

Metronome Stand for Ca1
This stand will keep your tuner off your music stand and prevent it from falling.
Need more info.. email orders@metronomes.net or call 800 586-3876