---
Links to music related services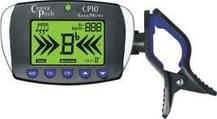 Center Pitch CP10 Clip On Metronome - Tuner
$21.50
Or Call (800) 586-3876
The CenterPitch CP10 is designed clip on to your instrument for perfecting musical intonation and timing skills. CP10's tuner delivers immediate intonation feedback necessary for brass, woodwind and bowed stringed instrument players to quickly learn to play in tune. CP10's metronome delivers crisp, clear timing sounds that are easy to play with and hear. Plus the CP10 metronome has built in rhythms in addition to the quarter note pulse delivered by traditional metronomes.

Attaches easily, firmly and safely to any instrument, adjusts for perfect viewing, and works well in noisy areas to keep you in tune. This unit works by vibration not by sound and is recommended for Brass, Woodwind, & Bowed String instruments. We have tested this for guitar and it works very well - one of the easiest and quickest tuners we have tested with large tuning display and a large 360 degree swivel system for moving the display in view.


Tuner Features

Responds to 7 octaves - accuracy +-1 cent.

Vibration pickup

Limited lifetime warranty.

Clip is made of rubber to protect your instrument.

Calibrates between A= 4100 Hz
Transposes tuning for C, G, B flat, E flat, or F instruments.
Backlit display is in red and turns green when in tune plus arrows that tell you weather the instrument is sharp or flat.
Metronome Features
Beat control for 1/4 through 9/4 meter with accenting sounds
Range 30 - 260 beats per minute.
Crisp clear pulsing sounds.
Green LED light flashes with metronome pulse
Many beat subdivisions.
Specifications
Battery CR2032 - included - 30 hour battery life
Powers off in 2 minutes if no incoming pitch or metronome not sounding..
1 3/4" wide x 5 1/4" long x 3/4" thick - weight 2 oz
Need more info.. email Orders@metronomes.net
or call 800 586-3876