Wittner
SEIKO
Matrix
Dr. Beat
KORG
Cherub
Intelli
Electronic Pitch Pipe
Metronome Watch
QWiK TiME
MetroAmp
Franz
Metronome Stand
Music Stands
---
Search By Type:
Key Wound
Digital Metronomes
Dial/Quartz Metronome
Tuners

---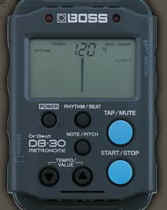 DR Beat DB30 Metronome
Boss Digital $37.00
with Free Shipping

or Call (800) 586-3876
The Take-Along Timekeeper
The Dr Beat DB30 metronome from Boss is portable, reliable, and fun to use — the new DB-30 metronome from Boss helps musicians take their music to higher levels by offering a feature set that defies its diminutive size. Much more than just a simple timekeeper, this pocket-sized metronome can lay down a variety of rhythm patterns and time feels to practice with, and it has a few timekeeping tricks up its sleeve as well.
Choose Your Pattern
Choose from a menu of nine rhythm types and 24 beat variations, including combinations of odd-time signatures and clavé patterns for practicing Latin rhythms. Who says practice has to be a pain? Put some extra spice and groove into your next workout with the DB-30.
Extras
The Dr Beat DB30 metronome features a smooth-flowing LCD needle and two bright LEDs for visual tempo assistance. Other helpful functions include Tap Tempo for finding the right pulse fast, internal reference tones (12 semitones), Auto Power Off for optimizing battery life, and stereo headphones jack so you won't miss a beat, even in noisy environments.
Handles time signatures up to 17 beats per measure
Rhythmic beat patterns in various styles
One Octave of pitches with pitch shift
Headphone output
Volume Control
A coin can be inserted in the back to have the metronome stand on it's end.
A strap (not included) can be looped through a hole in the metronome.
This metronome has a clip, that will easily clip onto a music stand, shirt, or belt.
Specifications of the Dr Beat DB30 Metronome:
Tempo 30-250
Beat:0-9, 2+3, 3+2, 3+4, 4+3, 4+5, 5+4, 5+6, 6+5, 6+7, 7+6, 7+8, 8+7, 8+9, 9+8 (24 kinds)
Rhythm: Quarter note, Eight Note, Eighth rest and eighth note, Triplet, Triplet with center rest, Sixteenth note, Sixteenth note with Sixteenth rest, Clave 1 & 2 (9 kinds.
Auto Power Off - turns unit off after 60 minutes
Memory Function - stores settings when the power is turned off.
Indicators: LCD Display, Tempo indicator is 2 LED's
Power Supply: one CR2032 lithium battery
Dimensions: 2-7/16W x 3-9/16H x 13/16D - Weight 3 oz including battery
Head Phone Jack - head phones not included.
Need more info.. email: Orders@metronomes.net
or call 800 586-3876
Accessories for the Dr Beat DB30 Metronome